Travel guide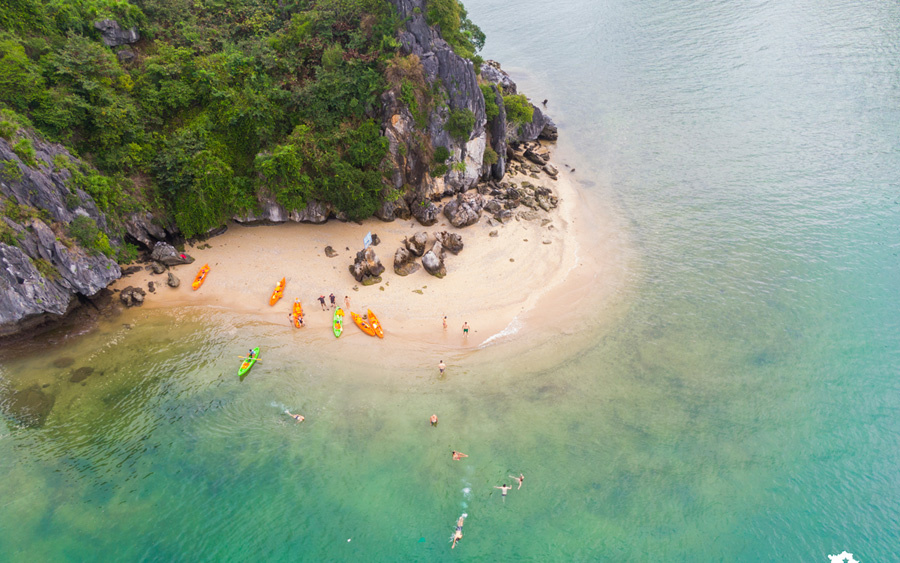 Which season to visit Lan Ha Bay?
For tourists who live in temperate countries, you shall travel to Lan Ha Bay in winter from November to March next year since the winter in Vietnam is not too cold and the weather is very nice. But the best time for Vietnamese to go to Lan Ha Bay is summer because it is always hot, suitable for both swimming and boating on the bay.
If you want to combine more to travel to Cat Ba, you can also go in the autumn of the North, but sometimes storms occur and the weather is not very sunny for going to the beach.
You should not come here between August and October because there will be rain or storms, which is not convenient for the trip.
Transportation to Lan Ha Bay?
Shuttle bus: If you depart from Hanoi, you just need to book a ticket. The bus will pick up at home or hotels in the urban area and go on the highway from 2 – 3 hours.
Ferry: This transportation is suitable for families with private cars. The advantage is that it can carry cars, the downside is that it is slow to travel, and has to pass two ferries.
Airplane: For those who live in the Central, the South of Vietnam or other countries, you can book tickets to Cat Bi airport, then travel by taxi to rent a boat to visit Lan Ha Bay.
What to eat in Lan Ha Bay?

Lan Ha Bay is a marine tourist area, so the delicious dishes and famous specialties in Lan Ha Bay are mainly courses from seafood (lobster, crab, seaweed, sea manis, geoduck,…). There are many delicious dishes for visitors to enjoy, including some of the most delicious and attractive dishes in Lan Ha Bay, Cat Ba such as: fried crab with salt, sea sam grilled, baked lobster with egg sauce, poached lobster with wine, grilled geoduck, steamed shrimp,…
Must-bring items when traveling to Lan Ha Bay?
Clothes, shoes, accessories: Shorts, maxi skirts, two-wire shirt,… are suitable clothes when you go for a walk on the beach. Bikini is an indispensable item when going to the beach. Sponge sandals will feel light when walking on the sea, instead of high heels.
Cosmetics: Sunblock is used to apply before going out in the intense sun to avoid sunlight impacts. Anti-allergic cream for those who have sensitive skin.
Medicines: These things  are used for food allergies, diarrhea, digestive disorders.
Personal belongings: You should bring some personal belongings: toothbrush, toothpaste, shower gel,… even though the hotel also prepares them because these things may not be suitable for many people.
Camera and phone: These are two indispensable items for those who love photography  and selfie as Lan Ha Bay has many beautiful and mysterious scenes. You should bring your camera to capture the beautiful moments, it will definitely be an unforgettable memory.